Our

Projects
Quran

Classes
Previous
Next
Mishkat Blog
Cooked Food Distribution 201915th May, 2019
As the Month of Ramadan is a time of Blessings, so are we initiating Cooked Food Distribution 2019 from today. Join us through you contributions in making it possible.
You can send your contribution through the following bank account:
Account Title: Mishkat Welfare Trust
Account Number: 0010-0024-4995-0047
SWIFT BIC No. ABPAPKKA
IBAN PK43 ABPA 0010 0024 4995 0047
Bank: Allied Bank Limited.
Branch: Gulzar-e-Quaid, RWP.
Branch Code: 0059

Please confirm your contributions on email or the contact numbers provided.
Mishkat Membership
You can become a member of Mishkat Welfare Trust by filling out a simple information form and monthly donations. You can also volunteer to become an active member by contributing through your skills and ideas.
Besides becoming a member, you can also give a one time donation.
We also accept Zakat money which will only be spent on the deserving people and not in the expenditure of the Trust.
Tweets from Mishkat
Dated: 7th Apr 2020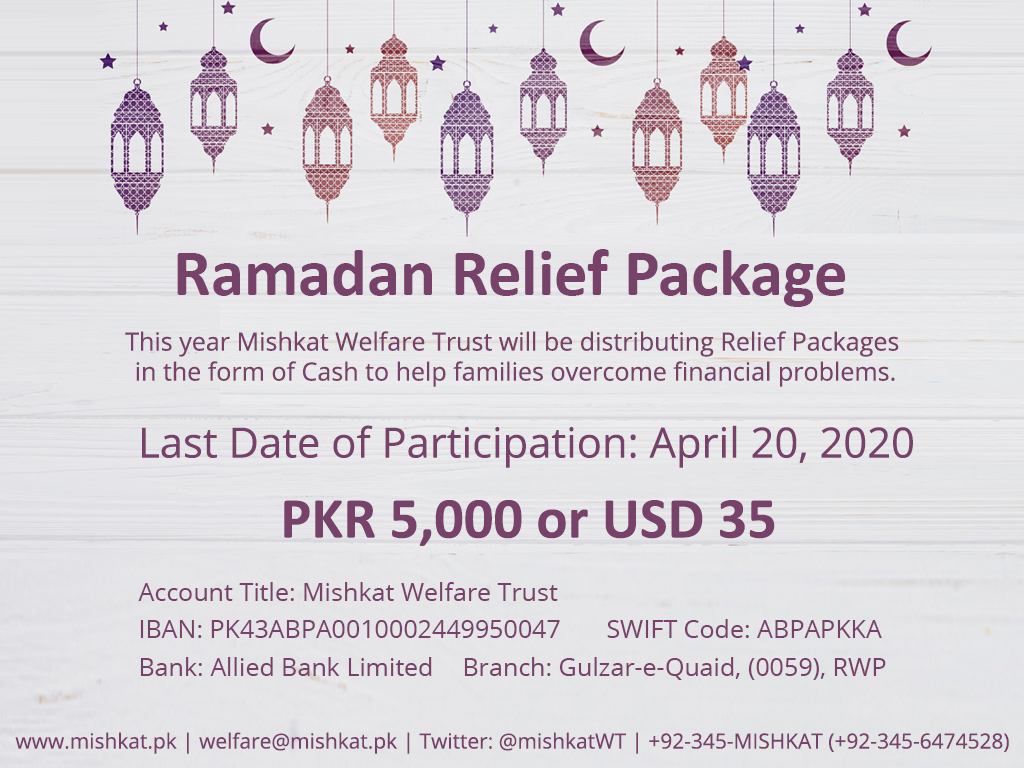 Participate in #Ramadan #Relief Package through which #inshaAllah we will be distributing PKR 5,000 per family in need. #CoronavirusOutbreak has created financial problems and it is time we come forward to help!
---
Dated: 27th Feb 2020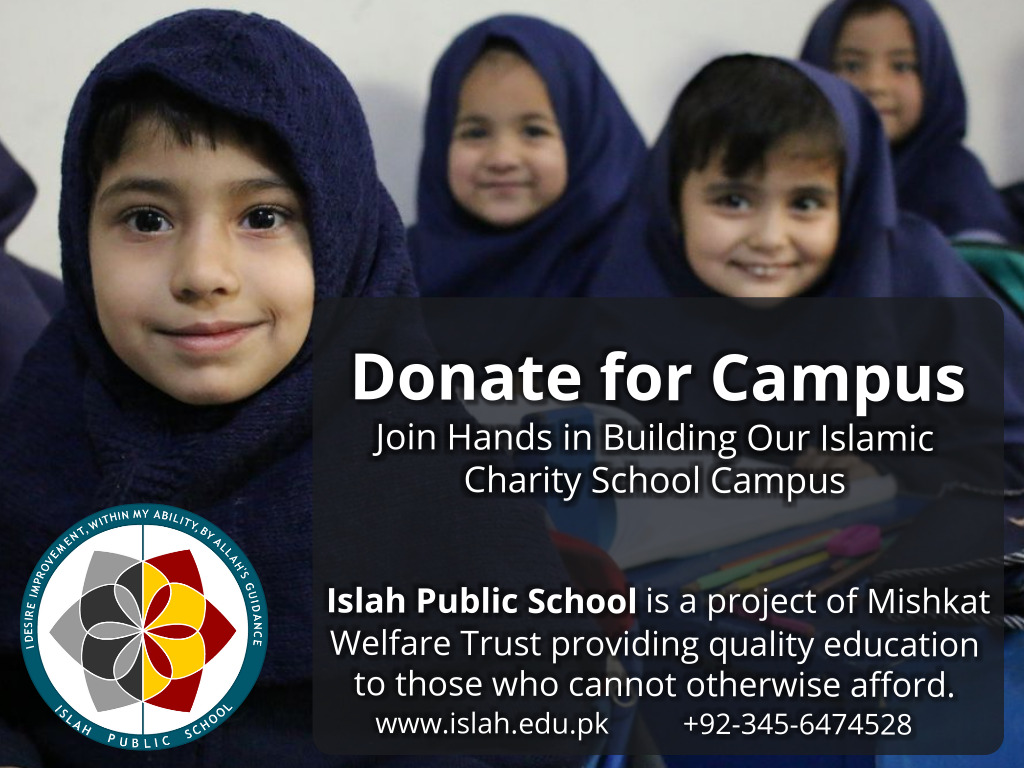 We are #crowdfunding with @LaunchGood to raise funds for buying 1,200 Sq. Metre plot on which a well equipped campus will be built for @IslahSchool. Join Hands in building our #Islamic #Charity #School Campus.
https://www.launchgood.com/campaign/plot_for_islamic_charity_school#!/
#Welfare #Donations
---
Dated: 1st Feb 2020
Respected Members & Donors
May Allah reward you for supporting Mishkat. We have been able to help hundreds of families through our projects.
With the increasing financial challenges, we request you to consider increasing your contribution to meet the rising costs
JazakAllah Khair
---
Dated: 7th Jan 2020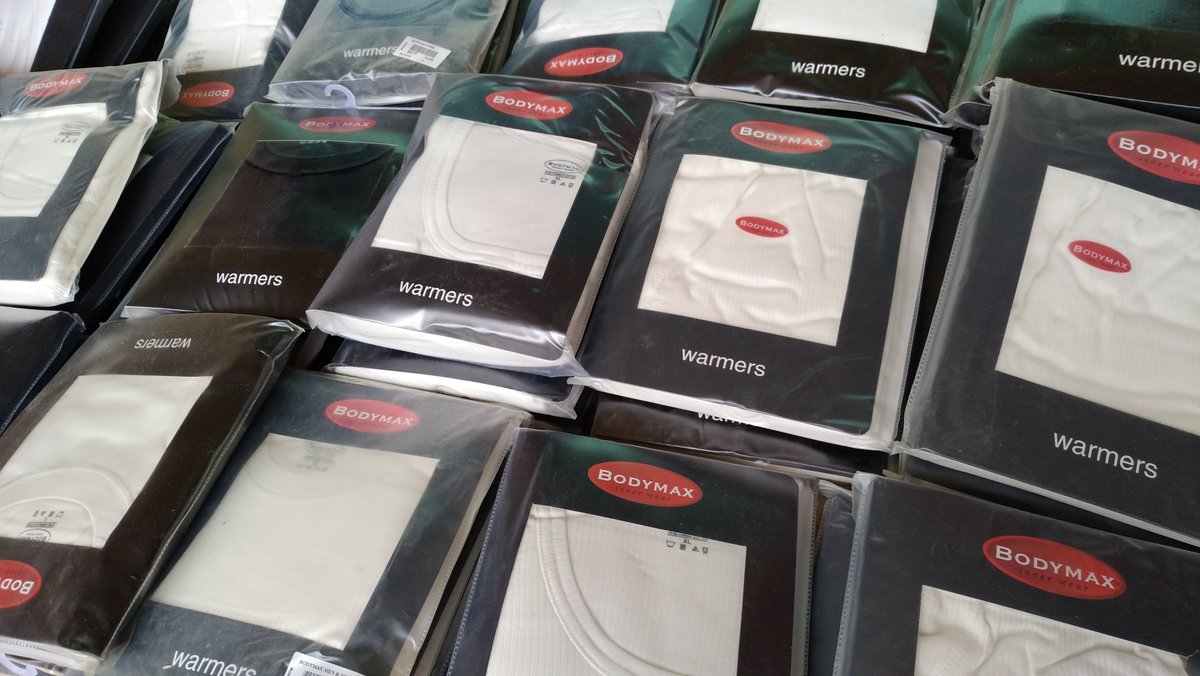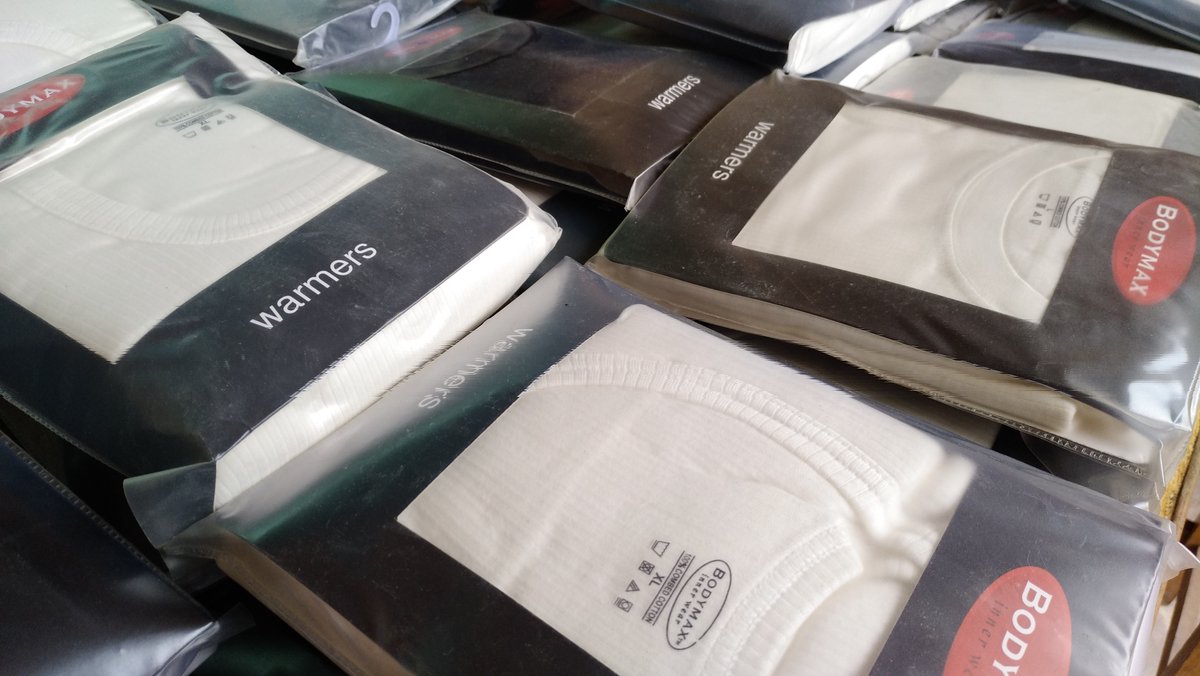 Distributed 600 packs of warm clothes among the deserving people in this prevailing #ColdWeather. May #Allah protect everyone from the #Cold and bless the #donors who made this #charity possible. #RainyDay #Fog #Winter
Contact Us
1st Floor, Pakistan Baggage House, Airport Service Road, Islamabad Airport, Rawalpindi, Pakistan
info@mishkat.pk
welfare@mishkat.pk
+92-345-MISHKAT
+92-345-6474528
SMS of Receipts:
+92-301-MISHKAT
+92-301-6474528