Mishkat Blog
---
---
---
---
---
---
---
---
---
---
---
---
Respected Members & Donors,
Assalam-o-Alaikum!
Just like every year, Mishkat Welfare Trust will be distributing Ramadan Ration to over 300+ families, inshAllah. A noble activity taking place every Ramadan since 2012, you are requested to participate with your share.
Each Ration pack will cost PKR 4,000 or USD $40. Following are the details which will inshaAllah be sufficient for 2-3 family members:
20 KG bag of Wheat
3 KG bag of Sugar
5 KG of Cooking Oil
5 KG bag of Rice
1 bottle of Roh Afza
1 pack of Tea
1 KG Bason
1 pack of Sawain
1 KG Daal (Laal Lobia)
1 KG Daal (Moong)
1 KG Daal (Masoor)
1 KG White Channa
1 KG Dates
Please note that 1 Ramadan Ration is not enough for giving Fidya for whole month, as Fidya is calculated based on the givers' standard. Let us come forward and make this Ramadan a source of blessing for all of us. Last date for funds collection will be 31st May 2016.
May Allah reward you for your contributions.
Mishkat Team
www.mishkat.pk
---
---
---
---
Mishkat Membership
You can become a member of Mishkat Welfare Trust by filling out a simple information form and monthly donations. You can also volunteer to become an active member by contributing through your skills and ideas.
Besides becoming a member, you can also give a one time donation.
We also accept Zakat money which will only be spent on the deserving people and not in the expenditure of the Trust.
Tweets from Mishkat
Dated: 6th Dec 2019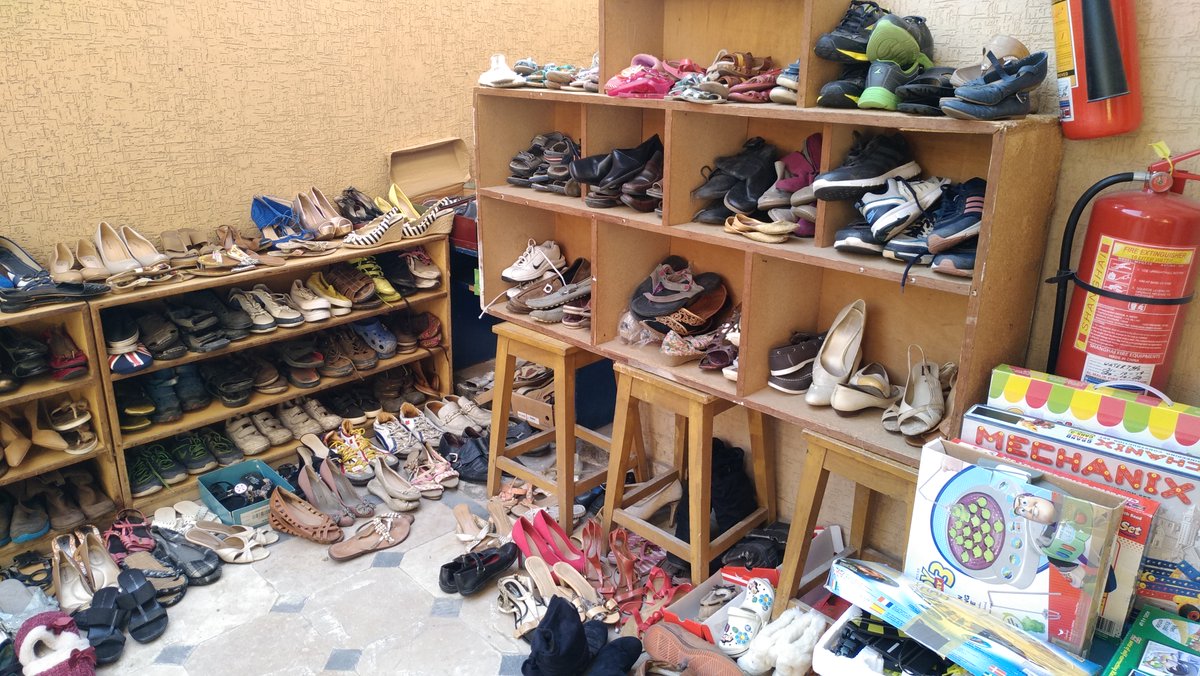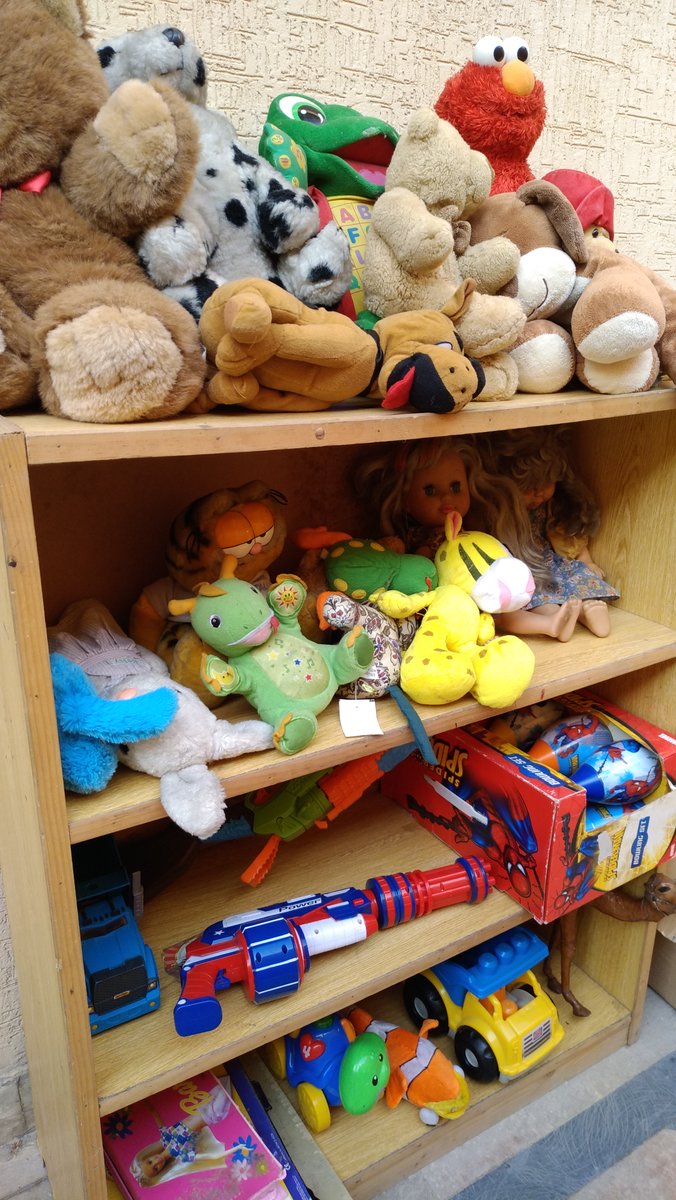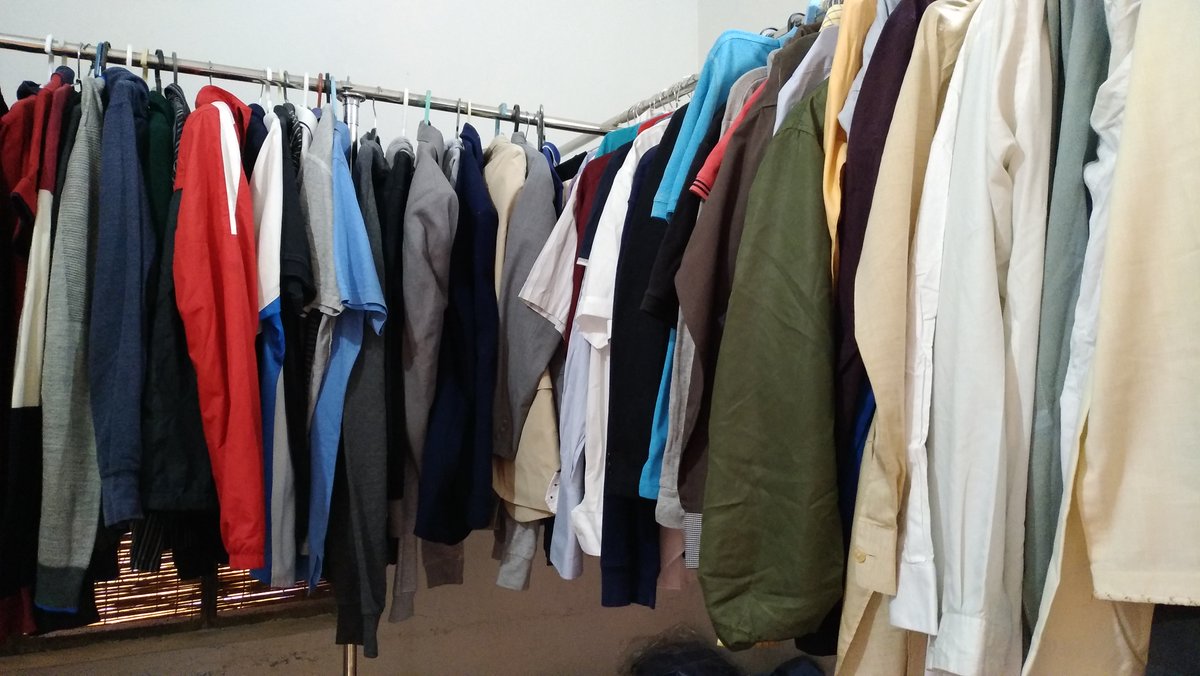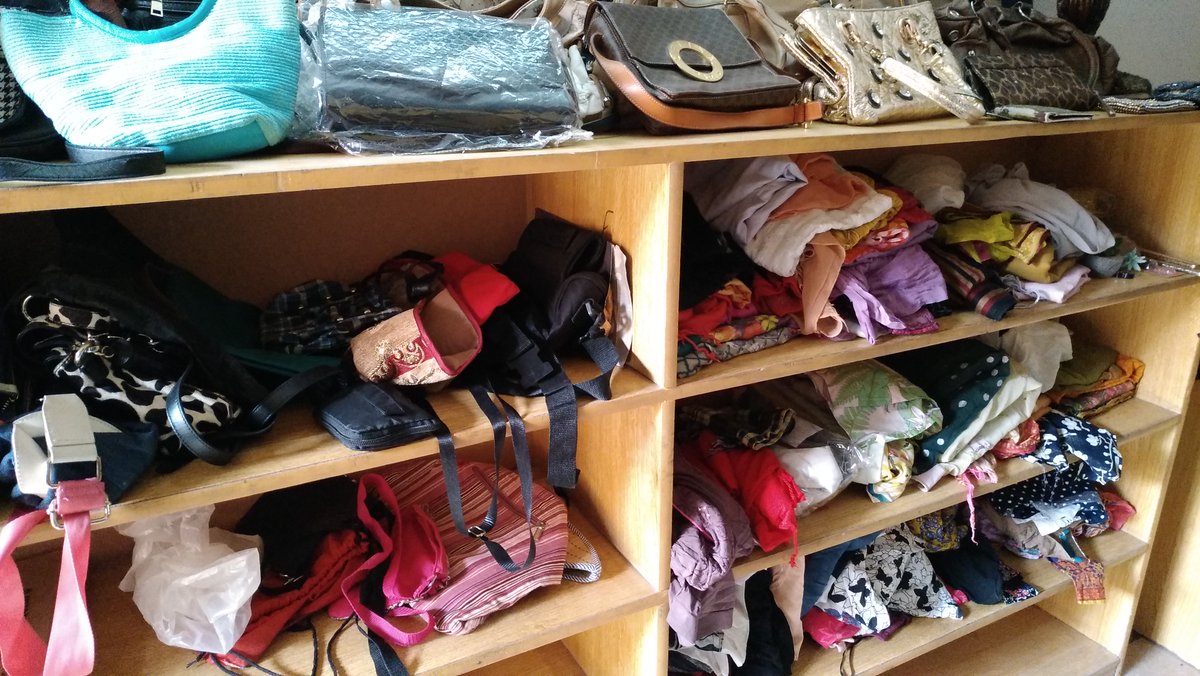 #Welfare #Bazaar for the next three days in @IslahSchool will #inshaAllah benefit 100s of families especially when #inflation has effected the masses! We are thankful to all the donors & volunteers who made this possible!
---
Dated: 7th Nov 2019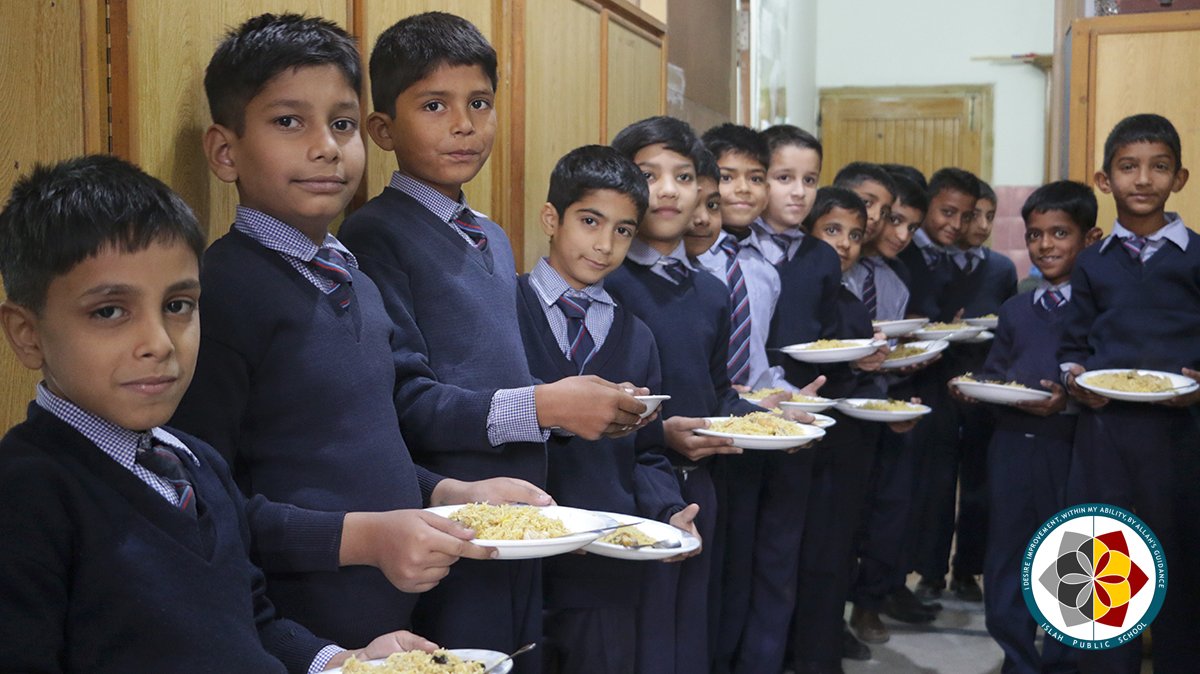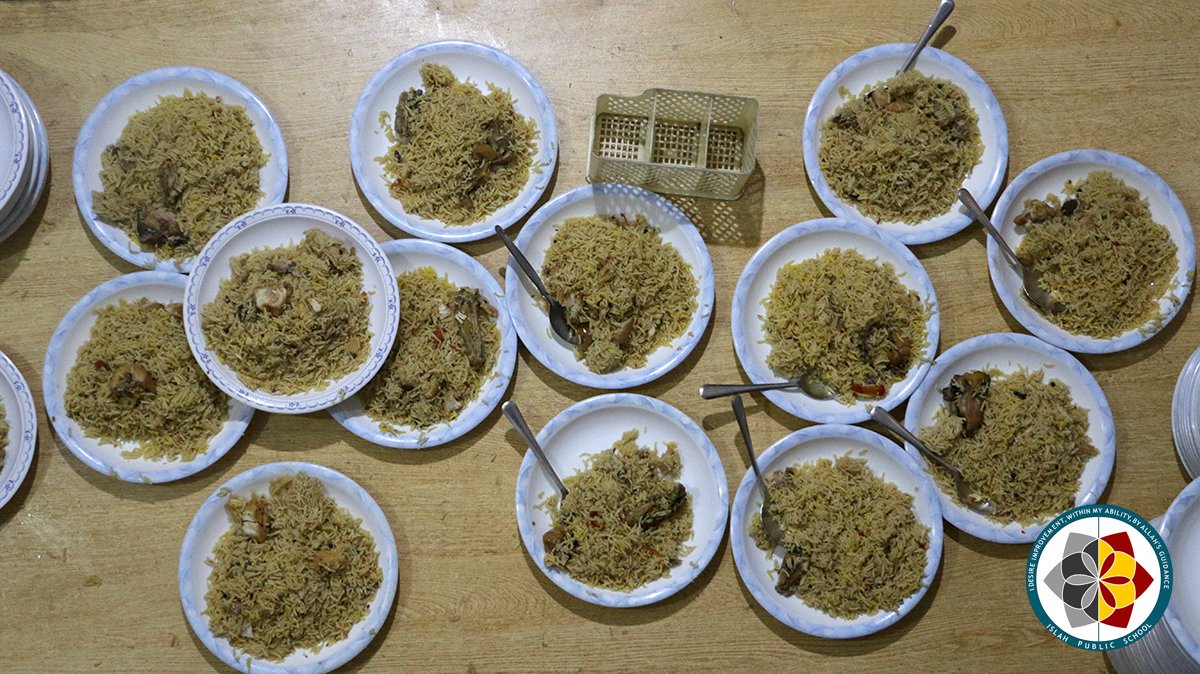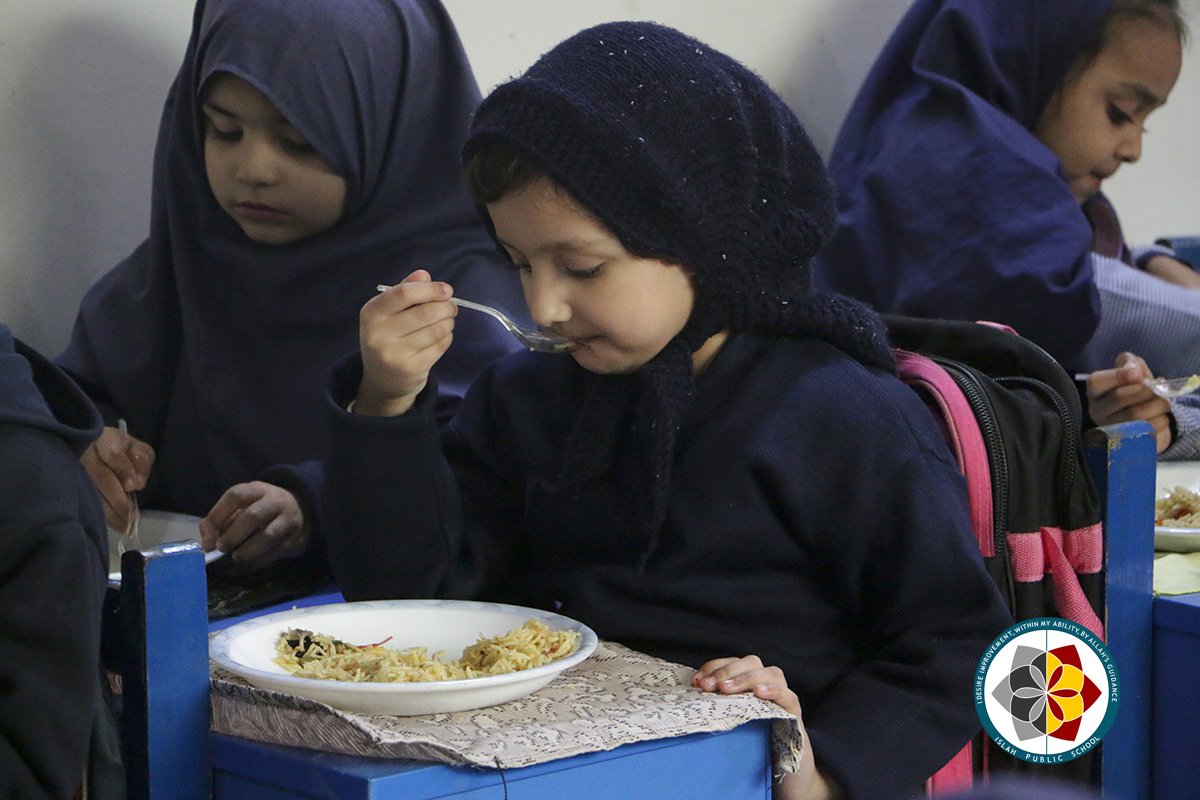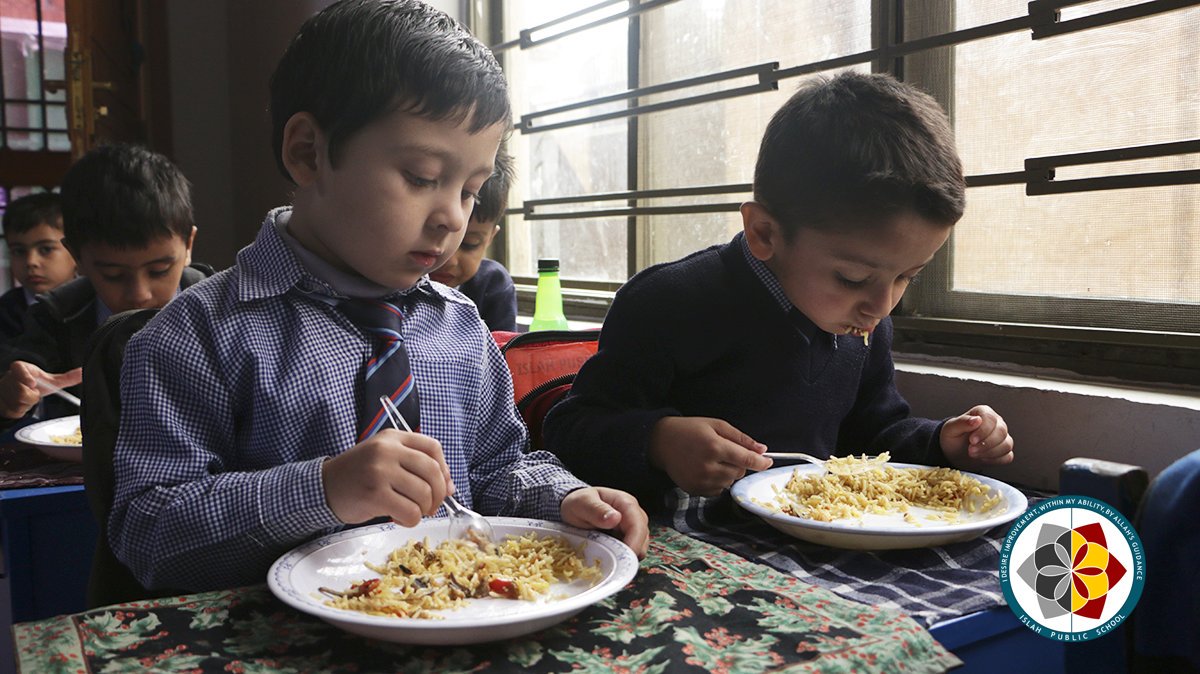 As part of the "Cooked Food Distribution" program, lunch was offered to the students of @IslahSchool today. A reminder for all of us to thank #Allah for the blessings and practice Islamic manners before, during and after having a meal. May Allah reward the volunteers & donors!
---
Dated: 7th Nov 2019
@pid_gov @ArifAlvi Representative from Mishkat #Welfare Trust, a Certified #NPO, also attended the event arranged by @PCPOfficials & @BritishCouncil. We thank #President of #Pakistan @ArifAlvi for the encouraging words. #Philanthropy #Zakat
---
Dated: 25th Oct 2019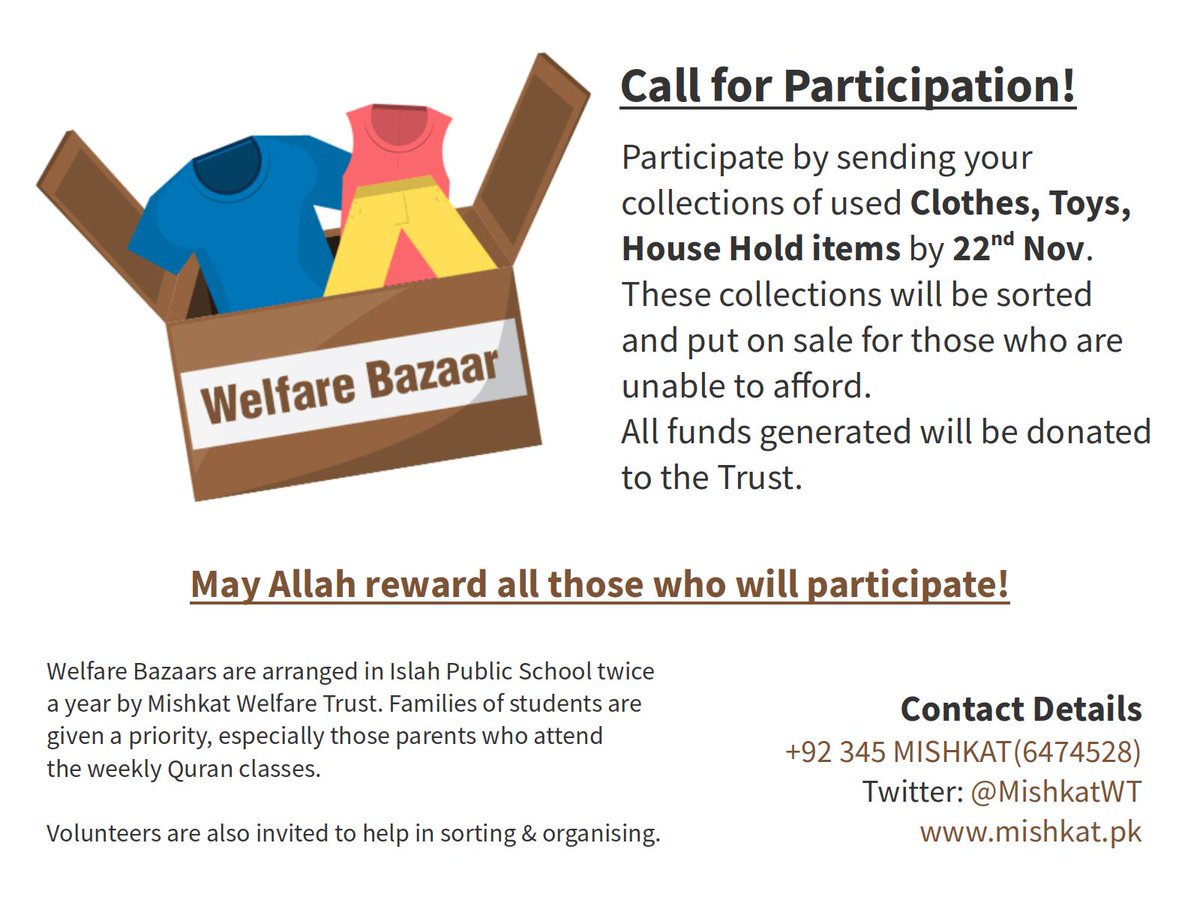 #Welfare #Bazaar for Fall 2019 has been planned this #December, #inshaAllah. Participate by #donating your stuff maximum by 22nd November.
Contact Us
1st Floor, Pakistan Baggage House, Airport Service Road, Islamabad Airport, Rawalpindi, Pakistan
info@mishkat.pk
welfare@mishkat.pk
+92-345-MISHKAT
+92-345-6474528
SMS of Receipts:
+92-301-MISHKAT
+92-301-6474528